Launching SRI investment
A project to give Yomoni clients the possibility to direct their contract towards more responsible investments by favouring funds that respect environmental, social and governance criteria. Design of all the subscription interfaces.
Launch project
Scope
Product analysis
Product thinking
Visual design
Product design
Prototyping
Increase acquisition by allowing new clients to subscribe to the Yomoni Responsible offer and old clients to transfer their contracts to new SRI funds.
About Yomoni
Yomoni is a fintech that makes online savings management simple and transparent. It offers various investment products (life insurance...) and a full digital experience to help clients keep track of their investments (performance, composition ...).
In 2020, Yomoni decided to offer its clients the possibility to move their investments towards funds that respect environmental, social and governance (ESG) criteria. The goal was to design the interfaces to subscribe to this new offer and to allow clients to track the impact of their investment.
Investissement responsable
The Yomoni Responsible offer is built according to a strict methodology: privileged sectors (health services, electricity...), excluded controversial sectors (tobacco, weapons...) and Greenfin & SRI labelled funds. It was important to present this methodology in the Yomoni client account.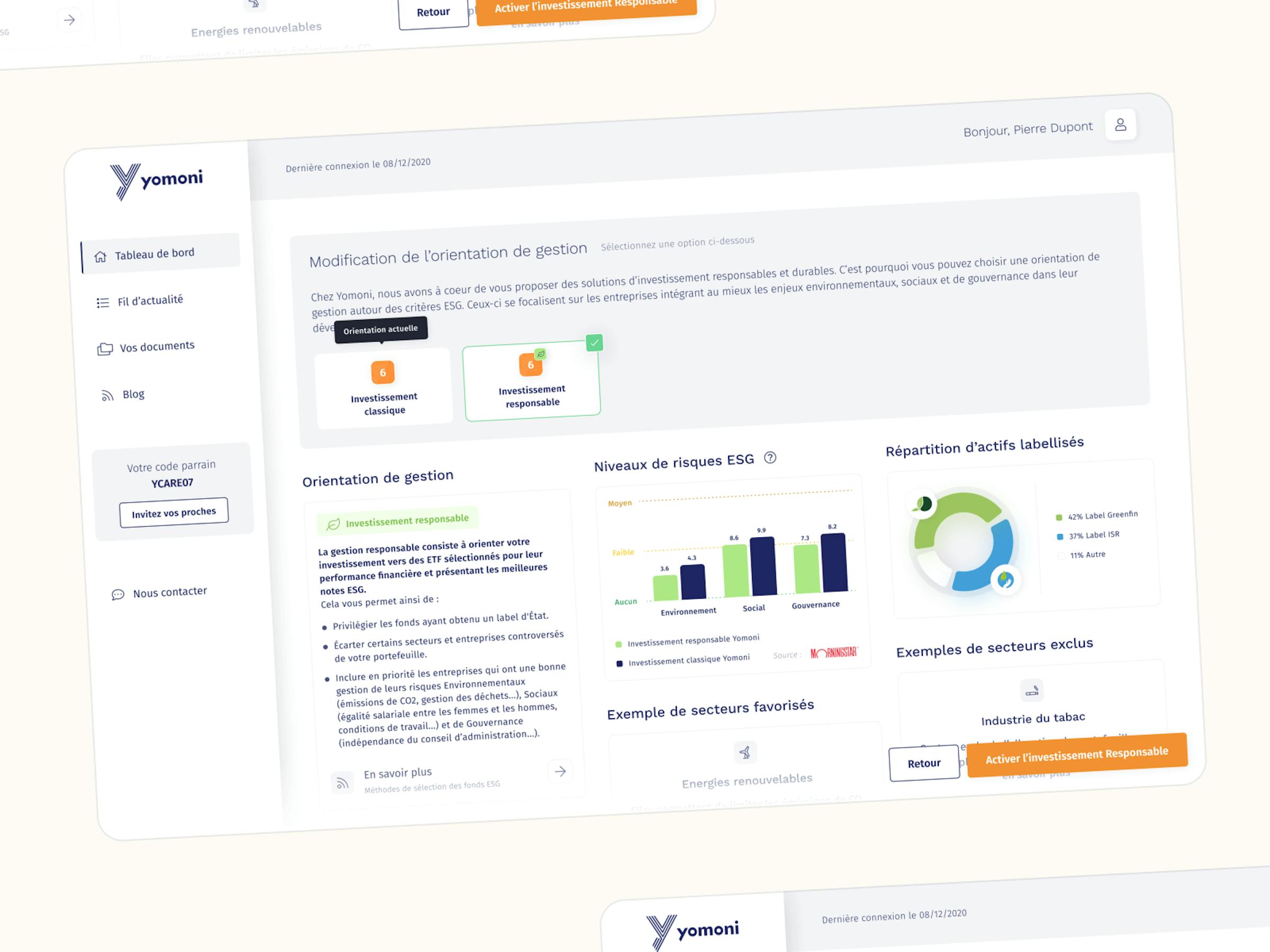 Modification of existing contracts
The first step was to allow clients to activate the Yomoni Responsible option on their existing contract. We created a brand new feature to be able to compare the characteristics between classic and responsible contracts. From the account summary, a client can now choose to activate the responsible investment in a few clicks.
We have decided to separate this functionality from the risk profile modification so we don't encourage clients to increase or decrease the risk of their investment. However, when changing the risk profile, we also propose to activate the responsible investment.
Activating responsible investment on a contract also means changing the risk profile. This is a sensitive operation that must be explained to users so that they do not make a decision that would go against their investment project.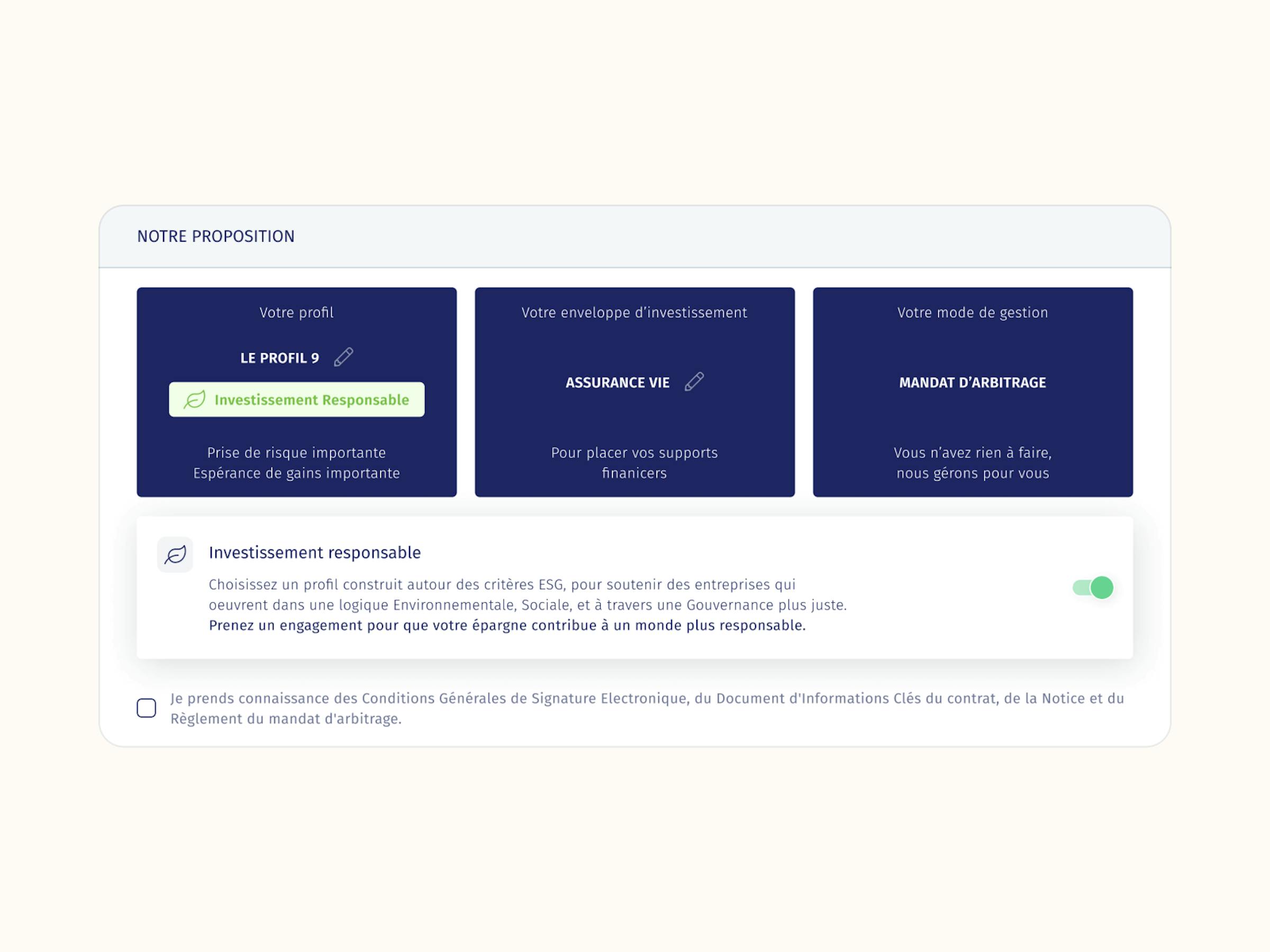 New subscriptions
Launching a new offer also means increasing the acquisition of new customers. The goal of the project was to propose this offer when opening a new contract. To open a contract, users answer a series of questions, then Yomoni proposes and simulates an investment solution. We added a question to know the preferred type of investment (traditional or responsible) so we could pre-validate a choice, then users can validate or modify this choice at the simulation stage.
The objective was to remain as neutral as possible without inciting the user to make one choice rather than another. To achieve this result we tested several possibilities (Wordings and layouts) via a Maze prototype before validating the final version.
We wanted to offer several themes for the Yomoni Responsible offer (water, clean energy, gender equality...), but after sharing a Maze prototype, we realised that most users simply wanted to give a responsible dimension to their investment, without targeting a particular theme. So we decided to launch a generic responsible offer, without themes.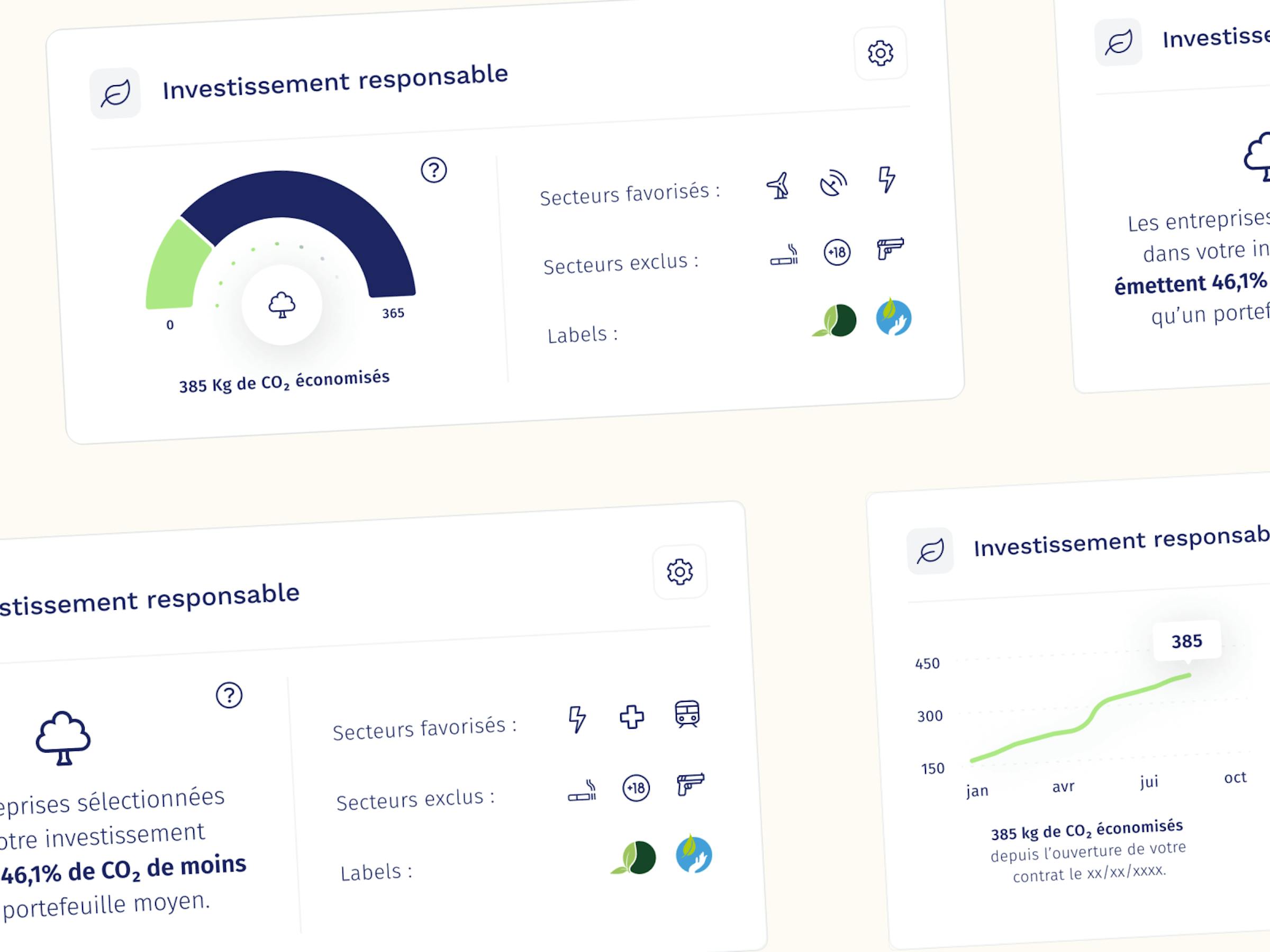 Show the impact of the contract
Once the responsible investment is activated on a contract, we felt it was important to show the impact of this modification in the customer's account. We tested different possibilities, such as displaying the number of Paris <> New York flights saved (in Kg of Co2), or simply a counter of Co2 saved. To avoid green-washing, we decided to display a summary of responsible characteristics: favored sectors, excluded sectors, fund labels, as well as the average Co2 saved on a responsible contract compared to a classic contract.
Namely, the companies selected in a profile 10 contract emit 50.6% less Co2 than an average portfolio 🍃.
The Yomoni Responsible offer is a great success. More than 35% of clients now choose the responsible offer when they subscribe, and many have transferred their former contract to the SRI offer.